After baking my most recent illusion cake made to look like my girlfriends favourite brunch (and mine to be fair), poached eggs and smashed avocado on sourdough, I thought I'd do a quick post of my favourite illusion bakes so far.
Brain Cake
A question I always get asked is how I got in to doing them in the first place so where better to start. My first attempt at making one was halloween a few years ago when I made this brain cake. It was a red velvet cake with rolled fondant used to create the brains texture before being glazed in raspberry jam. This was the first cake I made where some people just couldn't bring themselves to eat it, but those that dared loved it. Mmmmm brainsssss.
I did follow this cake the next year by making a jack o'lantern out of cake, which involved a lot of fondant and was filled with treats. Theres a more recent take on this though that I did last year which I'll share later in this post.
Burger Cake
The game changer for me was towards the end of 2019 when I bought myself an airbrush at the Cake and Bake show. Theres actually a post on how I made this cake that I posted at the time which you can check out here. This was a fun little project which involved fries made out of cookie, a burger bun made out of cake and a burger made out of chocolate, marshmallow and Rice Krispies. I used the airbrush to paint the fondant bun and also made lettuce and red onion out of flower paste as well as some mustard out of buttercream. Here's the finished result…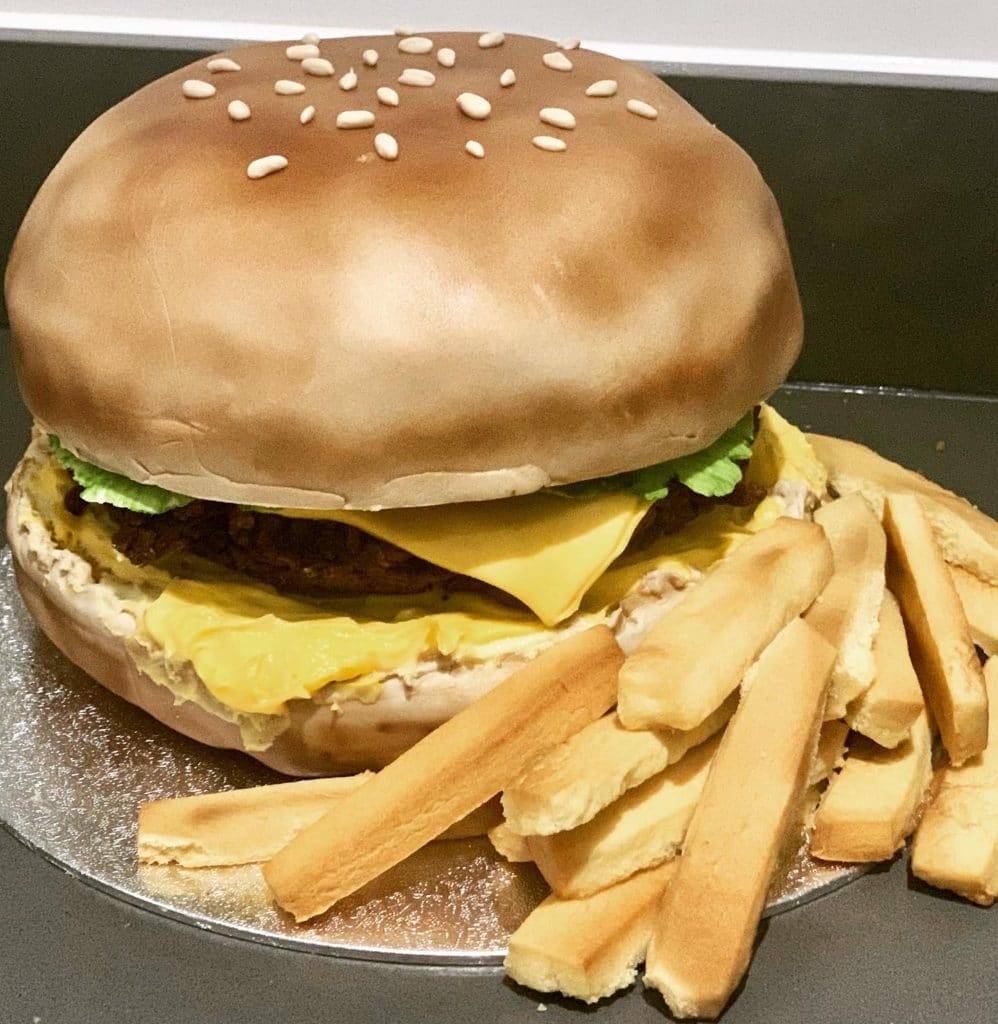 Sweeney Todd Pie (Halloween 2019)
This one I got play around with my airbrush a lil more. I started by decorating my cake board to look like wooden boards. I then created a bloody finger and tongue out of white chocolate modelling paste and using Sugar Paste fondant to turn my Victoria sponge cake in to a pie with a very gruesome filling.
Spaghetti Bolognese Cake
I think this cake was one of the most mindful to make as I made and placed each piece of spaghetti individually. Who'd have believed there was actually a cake hidden under all that spaghetti and bolognese sauce.
Boro Parmo
Back in my hometown we have a local takeaway delicacy known as the Parmo. For those not in the know, its chicken coated in breadcrumbs and deep-fried topped with béchamel sauce, cheese and then any other topping you might want to add. Usually served with chips and a side salad. So I thought it would be fun to try recreate this during the first lockdown. For the breadcrumb effect on this one I actually toasted cake crumbs to get the right look and texture.
Fruit bowl
This one was actually a selection of cakes, but cakes that look like one of your five a day don't count as cake right?
Jacket Potato
This time for a British staple, the humble jacket potato with baked beans. This was my first time playing around with piping gel to create the bean juice effect.
Carved Pumpkin
For Halloween 2020 I decided to try out white chocolate ganache carving to create this jack o'lantern cake. After coating the cake in the ganache, I shaped and painted it before then using carving tools to get the desired look. It may take a long time but I'll definitely be playing around with this technique again.
Smashed Avocado and Poached Eggs
And now for my latest cake that I mentioned at the beginning and one of my favourite results yet. This was a lemon drizzle cake topped with avocado made from lemon Italian meringue buttercream and poached eggs made from white chocolate ganache. The fun part with this one was actually using two different coloured buttercreams in an egg shaped mold to create the avocado look. After setting in the fridge I sliced the avocado and placed on the 'toast' before smashing it.
Now the question is what shall I attempt next?