Over the summer each year there are 4 weekends at Alexandra Palace, or as its better known Ally Pally, packed with street food, pop-up bars and live music. This weekend (22nd/23rd July) is one of them, I popped by a few weeks ago to check it out and wasn't disappointed especially given the glorious London weather that weekend. If the weather does take a turn for the worse there is also plenty of space inside.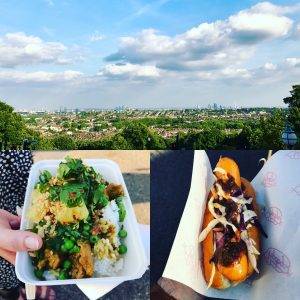 From jugs of Pimms to tiki bars to a gin popup with more gin varieties than you can shake a stick at there is something for everyone at Streatlife, accompanied with a soundtrack of classic tunes and an amazing relaxed vibe. I'd wanted to try a Popdog for a long while so I went for the funnily named Jamaican Me Horny, a chicken hot dog was something different,it tasted great, and I loved the kick of the jerk sauce. Other options included a Dirty Dog – beef dog with chilli, cheese and jalapeños or Clinton's Lovechild – pork dog with caramelised onions, pickles and sauerkraut. My friend Holly went for some Filipino food which was a really tasty curry. Other options for food can be found on the Streatlife website but theres all the usual suspects such as pizza, waffles, burritos, seafood, fried chicken, churros, paella, the list goes on. Basically there is something there for everyone 🙂
Music comes in the form of everything from DJ Yoda to brass bands performing classic dance hits or steel drums. Whenever I've been theres never a shortage of people up dancing in front of the stage. So if you're looking for an afternoon of great music, amazing street food and a wide selection of cocktails and drinks get your self down to Ally Pally this weekend.
For more information on Streatlife check out the website here. Its a great afternoon/evening out.